After Church Covered Dish Fellowship: August 1, 2021Sunday, August 1st, following our morning worship celebration, we will gather in our Family Hall to fellowship and to learn more about the vision, dreams, and ways to become involved as we "move across the parking lot" in just a few months.
You don't want to miss this opportunity to prepare to advance into the future God has for us here and beyond.
Please review the available slots below and click on the button to sign up.
Thank you!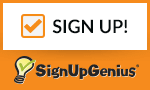 Upcoming Opportunities
August 6-7, 2021, Activating the Seer Gift
Special guest: Regina Shank of Global Transformation Ministries, Carthage, MO.
Friday, August 6th at 7PM -- A Night of Worship, Intercession, Declarations and Decrees
Saturday, August 7th from 9:30am - 4:00pm, with a lunch break (registration and lunch ordering will be posted soon)
Sunday, August 8th for our Sunday morning worship gathering at 10:30am
----------------
September 9-11, 2021. RTF Issue Focused Training and Activation
.
Pre-registration and prerequisites required.
Contact Winston Harvey for instructions winpathim@bellsouth.net